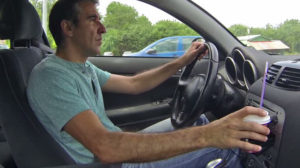 When you drive every day to work on busy city roads and highways your car endures a lot of abuse.  Then you have to add the work you put it through when shopping, visiting and traveling on weekends and holidays.  So when you come around to vacation time, you might consider leaving the car in the garage for a change.  Instead, give your car and yourself a break.  Take a plane, train or even a ship and get yourself and your family out from behind the wheel for a change.  Reserve seats with Priceline.com for a trip on a train or cruise.  Try going where you can escape the daily grind of driving.
Last year my wife and I took a 3-week vacation that included a trip on a train from home to the seaport.  We enjoyed looking at the countryside from the train windows at the countryside and watched vehicles stuck in regular traffic jams.  We used a Groupon to get special rates for our stay in the hotel at the railroad terminal; and saved enough to dine at a first-class restaurant.  From the port we flew to the city where we had made reservations using our Groupon promo code for rooms in a 3-star hotel in the heart of the theater district.  We stayed there two weeks, using their transit system to travel about, see historic sites, and go to art exhibits and museums.  It was fun not having to drive every day, and to enjoy – or as my wife likes to say "soak up" – the atmosphere and culture of places we visited.  Our trip marked the first time in a year that our car stayed in its parking spot at home for more than 48 hours.
The pleasure of that trip has made the idea of a "carless vacation" one that we keep in our lexicon.  This year we will most likely visit another place that you can enjoy far more when you go about walking or on public transit than you can driving.  The trip saved wear and tear on our car as well.  At inspection this year my mechanic noted that the annual mileage was the lowest amount since the car was driven off the dealer lot!   An unexpected side benefit of having a good travel agency plan your vacation trip.