Getting straight to the point: advertising needs to not only be seen but acted upon. But the first step is crucial — you need to be seen. And what better way to be seen than to reveal a large billboard advertising your brand in a strategically selected place?
Over the years, the automotive industry has had a hugely successful relationship with the advertising power of billboards. In the early 1900s, the Ford Model T became the main promotional product in the world's eyes. Billboards have always held a strong sway, even in the digital age, and even featured as the crucial element of recent blockbuster, Three Billboards Outside Ebbing, Missouri.
Businesses operating within the UK automotive industry really cannot afford to miss out on the potential ROI increase available from billboard advertising. Let's explore this in more detail…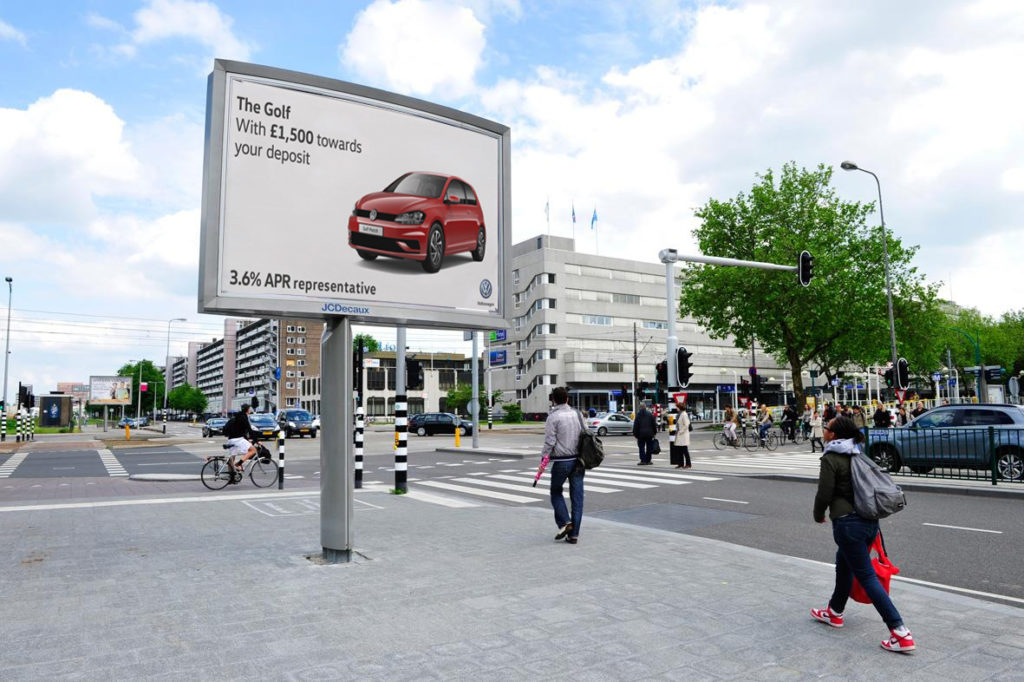 Billboard advertising can be a real time-save
On average, British people are in viewing range of advertisements for 16 minutes every day. That's plenty of time for you to carve yourself a slice of that attention with a well-placed billboard! Many people are reluctant to place a billboard for fear of complexity in designing and printing, but the truth is that billboard designs and printing are quite simple! Design-wise, despite the size of it, a billboard is really just a single-page advert, which can be a real time-saver.
It has been proven that out-of-home advertising such as billboards, are highly effective for the car industry in particular. Primesight reported on one such study, which showed that over 50% of consumers admitted they are more likely to have purchased a car after seeing out-of-home advertising. Additionally, out-of-home advertising such as billboards work hand-in-hand with the digital world. Research has revealed that such advertising actively supports assisted conversions, with 17% of customers more likely to engage with a brand through their smartphone as a result of an outdoor advert. And with 78% of adults in the UK reaching for their trusty smartphone to access the internet, encouraging research and engagement of your brand through mobile devices or smartphones is vital for your company.
What makes a great billboard?
Pick a clear objective, then provide the essentials. Placement is everything, but so is context — it is all well and good placing your billboard on a roadside where so many people will drive by it, but they are also going by at some speed! Of course, the adverting world is highly competitive, and none more so than the automotive industry. For your potential customers to take in as much as possible in a short window, consider what the goal of your billboard is. Are you looking to sell a specific product, or are you looking to increase general brand awareness?
A huge space to communicate to your audience, is of course the main benefit of a billboard. While people only recall 10% of information they hear three days later, an image can boost this retention by 55%. Set aside plenty of time to focus on what your image needs to be. Would a quirky or funny help your product, or perhaps something more striking? You have the space to play with, so creativity is key!
But the design is important; if the information is lost or unfocused, then no bright, powerful image in the world will make your advert a success. Make your information clear and eye-catching with bold, contrasting colours to stay in people's minds longer. Don't be tempted to go overboard with your font choice either, as you're aiming for clarity and readability. Pick something reliable, like Sans Serif, to ensure no issues.
If you're going for a roadside billboard, there's no point having lots of text on the board however. With only a few seconds to see it, the copy length of your advert needs to be realistic. Convey information quicker with the right image, then stick to a sharp, punchy message no more than seven words long.
Location is also a fundamental part of the planning process and needs to be considered carefully. Using local landmarks in your advert can create a sense of trust and familiarity, forging a connection with customers in that area very quickly. Also, everyone loves a bit of humour; in a review of 6,500 adverts, the funniest were deemed the most memorable. It also works well to give your brand a warmer, friendlier image.
Author bio:
Gary Peeling is the managing director at leading UK print company, Where The Trade Buys, offering a quick and professional display printing service for large and small businesses.